The Cotswold Landscape Gardener: A Case Study
 Having bought a large, newly built house within Laverton village, Richard and his wife wanted a Cotwolds landscape gardener to design a space that would reflect their surroundings.
This is their story.
Richard and his wife had bought a large, newly built house in the pretty village of Laverton, and were in search of a Cotswold based landscape gardener. They had spotted our PAS Landscape van parked outside a cottage in Buckland and introduced themselves. We swifty made arrangements to visit their property that day to see how we could best help. The location of their home was idyllic, however, the rear garden had what you might call a 'developer's finish'; the lawn was very much a blank canvas. Although simple, the garden had some wonderful mature shrubs and trees which we worked into the new design and existing patio.
Our clients wanted a garden they could enjoy from all rooms of the house. They wanted to be able to take in their grounds from whichever window they happened to look out of. Our clients had also brought some handsome statues with them from their previous home; some which they had kept for many years. So we drew up a plan that would enhance these, finding ways to evolve the landscape around these focal points.
"We have worked on many projects for our home and garden, and by far working with PAS Landscapes was the most fun I've ever had." Richard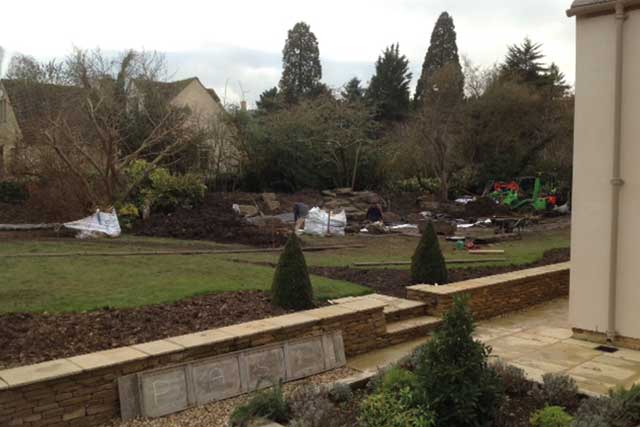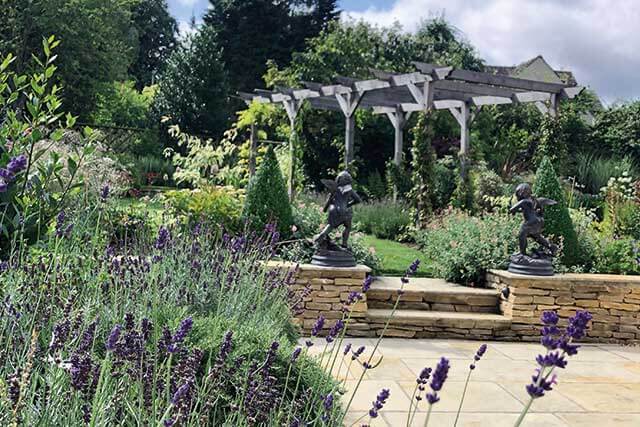 Circular Bench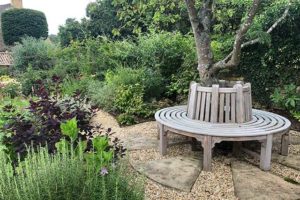 To make the most of this mature apple tree we built a circular bench to fit around it. This area can now be enjoyed as a place to sit and take in the flowers around you.
Water Feature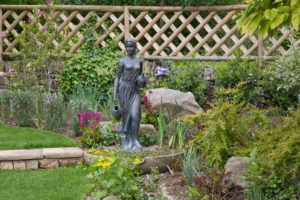 We installed this water feature of a woman carrying two jugs. The water runs through a stream that we built, following around the right and into the pond creating a sense of unity.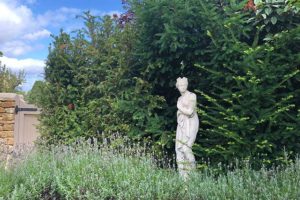 At the bottom of a row of pencil trees sits another stone statue. With a spectacular yew tree backdrop, she peers through a sweet smelling row of lavender hidcot.
Flowering Avenue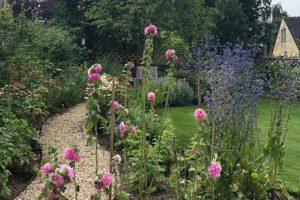 Leading from the apple tree feature is this winding path. Filled with bright perennials and evergreen shrubs, it leads to a circular patio and majestic planter.
Recreating A Treasured Water Feature
Our clients had worked very hard on creating a beautiful pond with a water feature at their previous home and wanted us to recreate something similar. We had a lot of fun bringing this vision to life. When we started to dig we came across two abandoned electricity cables that required some attention. It's amazing what you find when you start digging down.
To create the beautiful cascading of rocks framing the pond we sourced, transported and installed stone from the Forest of Dean. Stone on the Welsh border is much hardier than Cotswold stone; it can survive very wet conditions. Constant water running over Cotswold stone would have left it crumbling within a few years. The stone that we sourced will change colour over time to look just like Cotswold stone.
To bring height and movement to the pond we installed ducks in flight and a statue of a woman peering into the water.
Colour All Around
As a Cotswold landscape gardener, I love to use cottage style plants that complement the surroundings. Our clients also wanted plenty of colour brought to their space, so we went to work designing a detailed plan that would bring this to every corner of their front and back garden. Planting a mixture of evergreen shrubs and cottage style perennials lent a flourishing feel to the landscape. We also installed a new fence and pergola with Wysteria, Jasmine, clematis and hydrangeas to complement the structures. Now flourishing with beautiful blooms, we enjoy visiting our clients to watch the space evolve, assisting with regular maintenance and upkeep when it's needed.
How was your experience working with PAS Landscapes?
"Phil and his team were so pleasurable to work with. We wanted to find a Cotswold landscape garderner and happened to spot the PAS Landscapes van parked outside a beautiful cottage in Buckland. The team visited our property that very day and so a wonderful relationship began. When it came to the planning, design and development of our garden it was very much a meeting of minds. We were shown the initial drawings and invited to have as much input as we wished. This worked well for us as we were quite happy to be as much a part of the project as we could. Having previously designed our past gardens, we had lots of ideas and very much enjoyed being a part of the whole process." – Richard